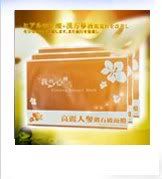 Item Reviewed: Xin Ji Mei Ren Ginseng Extract Mask
Price/pack size: $1/piece
Please contact me via email (psawyerbeauty@gmail.com) if you're interested to buy.
Ingredients: Sodium Hyaluronate/ 1,3 Butylene Glycol/ Ginseng Extract/ Aloe Extract/ Sclerogglucan/ Triethanolamine/ Glycerin/ Perfume/ Water
Description: Using the various plant extracts, Ginseng Extract Mask allows skin to fully absorb the nutrients of the mask and deliver results. Ginseng helps to revitalise skin and aids anti-aging, while hyaluronic acid moisturises skin. Skin is thus smooth, bright and hydrated.
Review: The smell of ginseng was not as strong as I had expected. It was more like a ginseng candy, a little herbal, a little sweet. Nothing too offensive. I was intrigued by what ginseng can do for the skin, thus decided to try this mask out. Sadly, besides delivering hydration, I didn't experience any other out-of-the-world effects. *Perhaps that's a sign that my skin's not aging, yet =P*
The mask was an odd shape, having used Neutrogena before. It was fairly wet with essence, even after 15 minutes on the face. I managed to squeeze out a handful of essence from the mask (after using it on face) and apply it on my arms and elbows for some intense moisturizing. The essence took a while to be fully absorbed but when it did, it left no sticky residue.  My (dry) elbows were extremely smooth today.
I would still buy it again, just to try using it for a couple few more times, see if there's any visible effects, besides hydration.
Rating: 3/5